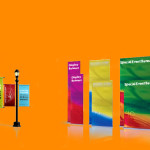 There are several businesses in Los Angeles that offer several kinds of products and services and vie for customer's attention. One of the best ways to do this is to step ahead of your competition and create impressive promotional tools that attract your customer's attention. Sign Printing Los Angeles helps businesses to make effective marketing material for promotion of events, services and products. With impressive banners it becomes difficult for customers to miss what you wish to communicate.
Rush Sign Printing in Los Angeles
Los Angeles Sign Printing uses high quality product to provide perfect finish to the advertisements with fade resistant ink which in turns makes the promotional material much durable and strong enough to fight the weather changes. The business can choose any size and get it customized according to their needs. Facility of free proofing is also provided. Depending on the location of advertisement the best solution is customized to suit individual's business need. All the sign printing work undertaken is meant to grab attention and is quite progressive to attract more and more customers.
Full Color Sign Printing in Los Angeles                
Custom Made Sign Printing Los Angeles provides cost effective solutions and complete the job to perfection. All the promotional material is designed in a manner so that your message goes across to lots of customers in a single day. Every person that walks across your sign is a potential customer for your business. People generally don't recognize that they need something until they see it. Messages conveyed to customers in such manner should therefore be quite attractive and simple to get across. Sign printing in Loa Angeles is a group of thorough professional who know the inside and out of the printing business. They design the signs with latest technology and innovative methods to attract the customers. All the work done is carried on in an utmost flexible and cost friendly manner.
Fast Sign Printing in Los Angeles
Los Angeles Same Day Sign Printing is no problem for us. We love to see that your business is succeeding in the right way. Why not let us help you with the best services. We promise to give the best quotes on all kinds of signage or printing services.